iPhone 4S in depth
As marketing headman Phil Schiller ate up more and more minutes of Apple's "Let's talk iPhone" event, waxing rhapsodically about the new iPhone 4S, it became increasingly clear to those in attendance that the iPhone 5 wasn't going to make an appearance.
Not that The Reg was there to take the pulse of the crowd. For reasons best known to JobsCook & Co., your humble Reggies are personae au gratin at One Infinite Loop.
Locked out of the event hall, we struggled instead to find a working live-blog feed, settling on a sputtering Ars Technica and a stumbling Engadget as the best of the self-immolating lot that we tried.
But despite the glaring limitations of this newfangled "internet" thing, we were able to learn from those live-bloggers' reports that Schiller was valiantly attempting to paint the iPhone 4S as a Real Big Deal™ – and that he pulled it off better than might have been expected, considering all the pre-event hype about the iPhone 5.
The iPhone 4S looks for all the world like an iPhone 4 – which has case-manufacturers rejoicing – but Schiller's promise that "inside it's all new" may rightly be considered a wee bit of an exaggeration. That said, the iPhone 4S does included a number of welcome upgrades from its immediate predecessor.
Take, for starters, its A5 processor, which is either identical or substantially similar to the processor powering the iPad 2 – Apple, as is their wont, didn't say. Schiller claimed that the A5's overall performance was up to two times as fast as the A4 in the iPhone 4, with graphics performance being up to seven times as fast.
Seeing as how the iPhone 4S won't be available until October 14, we have nothing substantive to say about Schiller's claims. Neither can we verify his reports of solid battery life for the 4S. But comparing the performance and battery life of the single-core A4-equipped iPad to that of the dual-core A5-equipped iPad 2 looks promising.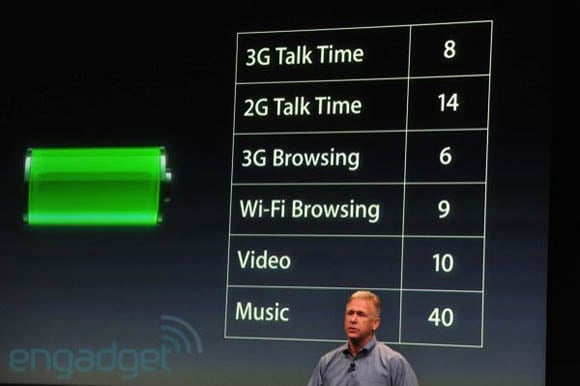 Apple's Phil Schiller and his battery stats at Tuesday's 'Let's talk iPhone' event (source: 
Engadget
)
Speaking of comparisons, and seeing as how the iPhone 4S appears to have not changed the antenna design that led to the "Antennagate" dust-up over the iPhone 4, Schiller went out of his way to point out that the iPhone 4S has a different antenna system than did the iPhone 4.
"Our engineering system has worked really hard at advancing the state of the art,"Engadget quoted him as having said. "It can now intelligently switch between the two antennas between transmit and receive."
Now, exactly what technology is behind that claim is of course not the subject for a mass-consumption product-rollout pitch, and Schiller didn't break that marketing rule. We'll be anxious to hear exactly and specifically what Schiller was talking about as time goes by.
He did, however, claim that this "state of the art" antenna-switching will improve both call quality and data-download speed. Schiller says that the 4S will support data rates of 14.4Mbps down – double that of the iPhone 4 – and 5.8Mbps up, matching that of the iPhone 4.
He then displayed a slide that compared iPhone performance to that of other HSDPA "4G" phones, showing their up and down speeds matching those of the iPhone 4S. "The iPhone 4S is just as fast as these phones," he said.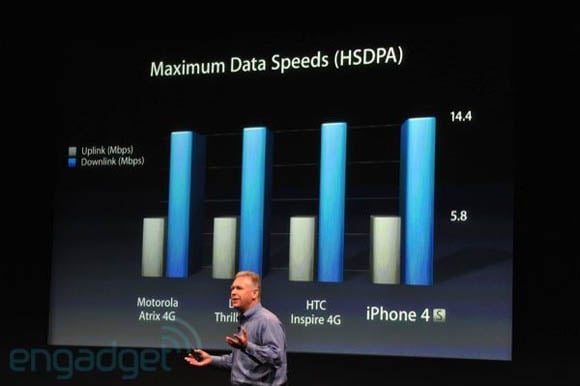 Apple reserves the right to reserve the term "4G" for the foreseeable future (source: 
Engadget
)
We're not going to get into a debate as to exactly what "4G" means – as we discussed last week, there's more than enough marketing mumbo-jumbo to go around in that debate.
We will, however, be willing to place a small wager that one of the reasons Apple is not jumping on the 4G bandwagon with the iPhone 4S is that they plan to make that marketing move with the iPhone 5, whether that (eventual) phone is based on LTE, HSPA+, or – a vanishingly small chance – WiMAX.
And speaking of alphabet soup, one nice feature of the iPhone 4S is that it's both CDMA and GSM-capable. While that may not mean much to folks who don't travel much, if you happen to hop from country to country, the ability to switch protocols is a real convenience.
Cutting the number of iPhone 4S SKUs in half is also a big plus – but more to Apple than to consumers.
Camera improvements: from wretched to …?
One other iPhone 4S improvement item that Schiller pumped up was its camera.
From a strictly numbers-game point of view, the camera-sensor resolution increases 60 per cent over that of the iPhone 4, from five megapixels to eight. But as every photographer knows, and which even Schiller acknowledged, more megapixels do not necessarily make for better photographs – the sensor quality, the lens, and the image-processing circuitry matter far more.
Schiller touted the camera's backside-illuminated sensor as providing better low-light performance – a reasonable claim. Knowing how abysmal all iPhones have been in low-light situations, we can only hope that Apple's designers have chosen a well-performing backside-illuminated sensor for the iPhone 4S.
Schiller certainly thinks so, saying that the new sensor allows the camera to gather 73 per cent more light per pixel than the camera in the iPhone 4. By the way, you gotta love statistics like "73 per cent more light per pixel". Not 72.8? How about rounding up to 75?
Schiller also noted that the lens of the iPhone 4s's camera has five elements, and not four as in the iPhone 4. Whether or not, as Schiller claims, the addition of a fifth element will help improve sharpness, color accuracy, and color uniformity – or, in Milla Jovovich's case, save the world – remains to be seen. Theoretically it could, but the proof is in the execution.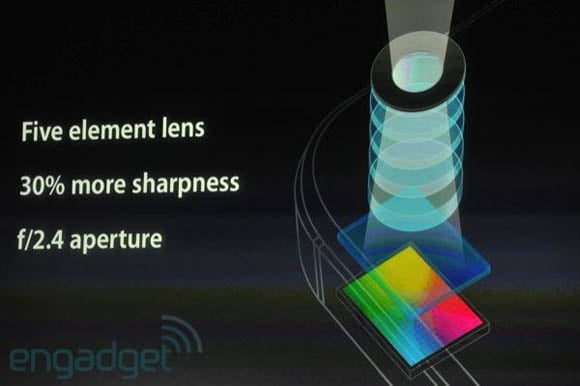 An ƒ2.4 aperture and backside-illuminated sensor should help improve low-light imaging (source: 
Engadget
)
Schiller also touted the camera's improved, Apple-designed Image Signal Processor, which is presumably on the A5 die along with the compute and graphics cores. This core, he said, allows for face detection and "26 per cent better white balance" – though exactly what metric he used for that bit of spec-speak, he didn't say.
Overall, Schiller said, the new camera system – sensor, lens, and processing core – is ready to shoot in 1.1 seconds and has a shot-to-shot speed of 0.5 seconds. Gloating perhaps a bit more than good manners might suggest, he compared the iPhone 4S's camera speed with that of three other smartphones, and said: "I don't know what Droid Bionic users need to do between pictures. Maybe go get coffee."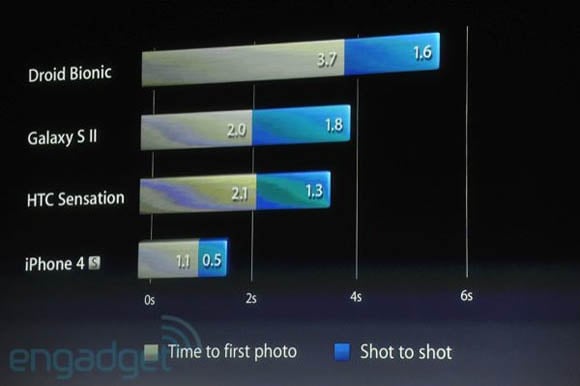 Schiller couldn't resist a snarky comment directed at the Droid Bionic when showing this slide (source: 
Engadget
)
The camera also provides 1080p HD video recording, which is aided by some image-stabilization and noise-reduction mojo. "To many customers this will be the best still camera they've ever owned and the best video cameras they've ever owned," Schiller opined. Many customers, it would seem, have never used a still camera with decent glass or a three-CCD video camera.
One last image-related trick: the iPhone 4S can now mirror its screen via AirPlay, as can the iPad 2 and the new iPod touch, if you have your big-screen TV hooked up to an Apple TV. If you don't, you can accomplish the same feat using a wired connection.
Prices for the iPhone 4S on a two-year contract have an imbalance that's common in the industry but which still appears skewed to anyone who has ever purchased flash memory in bulk: $199 for 16GB, $299 for 32GB, and $399 for 64GB. An extra hundred-buck premium for 16GB – or even 32GB – of flash seems a bit out of whack to us.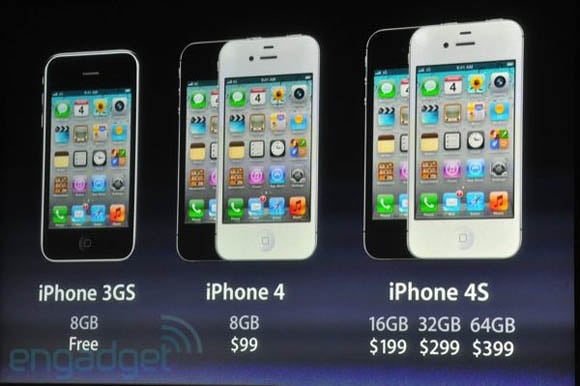 'Free', in the case of the iPhone 3GS, doesn't include the wireless providers's service plan (source: 
Engadget
)
The iPhone 4, by the way, doesn't disappear once the iPhone 4S hits the shelves on October 14. Neither does the iPhone 3GS. An 8GB version of the former will be available for $99, and an iPhone 3GS with the same amount storage will be free – both with two-year contracts, of course.
The iPhone 4S will be available on its ship date in the US and UK, Canada, Australia, France, Germany, and Japan. Twenty-two more countries will be added on October 28, and the total will rise to 70 by the end of the year. In the US, it will be available not only from Apple's current partners AT&T and Verizon, but also from Sprint. ®
Bootnote
If you've been following the "Let's talk iPhone" event coverage, you'll surely notice that we haven't mentioned the "talk" portion of that title: Siri, Apple's beta version of an voice-activiated, artificial intelligence–driven "assistant" for iOS 5, which will apparently first appear in the iPhone 4S.
We've skipped it not because it's not strictly part of the iPhone 4S, but because we believe it's a bit of a gimmick – even if it works as advertised.
Some day, voice-operated computing may be reasonable, and yes, using Siri in a hands-free setting such as while driving seems reasonable, but we believe that talking to one's phone makes far more sense when there a flesh-and-blood human on the other side of the conversation.
So we're old-fashioned. And computers will never need more than 640K of RAM.
[Source: The Register]